A friend of mine alerted me to a new craze on social media called 100 Days of Happiness, which challenges us mere mortals to try to be happy for 100
consecutive
days. Apparently the majority of people don't get past day 70. The catch is that you have to post a pic of the happy moment.
I believe in an attitude of gratitude. Making the time each day to take note of what makes you happy, is a way of showing gratitude for what and who is in your life, so I say.........
Challenge accepted!!
I will be posting my daily happiness pic, with a caption, here on my blog. If the pic is not really for the whole world to see (may need to protect some privacy here) then I will post that pic to Facebook instead and just give a more detailed caption here for my non-FB readers. Here I go, feel free to join me and spread the happiness, because what you focus on, will grow.
:-)
I expected today to be dreadful, having to go to the police station and certify documents and draw money and stand in queues, but the Universe had other ideas. I breezed through all my errands in 20 minutes and suddenly all my doubts vanished. I am on the right path.
I then invigilated a test for my marketing students - last lecture for the term. I'm on an a academic break for a week. Yeeeha! Here's my empty lecture room - looks like they stole some chairs.
:-)
Happy Day 2
Be careful what you wish for, you may just get it.
Today I got what I wished for, sending my life into a tailspin. After receiving 2 phone calls within an hour of each other which threw me into a mad dash of last minute meetings planning moving and changing and emotional turmoil. Hugely stressful but when it feels this great it must be right. Very happy and exciting day!
:-)
Happy Day 3
So many things made me happy today:
1. The kids took the news of moving extremely well
2. Dancing to 80's music with the kids pretending to hold microphones and out-sing each other!
3. Laughing hysterically at how Lettuce (age 2) was trying to talk to Siri on the iPhone and how mad he got when she wouldn't do what he asked.
4. Lying in bed and chatting to hubby about everything
5. Going out to lunch/ coffee/ cake with my one of my oldest and best friends who has never left my side no matter how hard the road has been for both of us
6. Divine carrot cake
7. Seeing Lettuce's little face light up when he did the big slide on his own and landing on his feet
8. Hugs and kisses and snuggles from all 3 kids
9. Family who came to bat for me when I needed it most - thank you!
10. The girls got up, got dressed and dressed their baby brother (and changed his nappy) so that we could have a little sleep in - here is the pic to prove it lol.
:-)
Happy Day 4
Today again I had quite a few happy times.
1. I was happy that my kids were happy
2. They had fun with their cousins exploring (pic posted on FB of kids and cousins sitting on a bench under a tree)
3. Early morning homemade cappuchino made by my clever brother (with cake!)
4. Kindness and support from my family and compiling me a to-do list!!
5. Joining the kids having fancy hot chocolate
6. Seeing a great live show with just me and hubby
7. Mema babysitting at super short notice
8. Getting my evening drink delivered to me with a kiss
:-)
Happy Day 5
1. Again a happy day:
2. Had breakfast and a catch up with a friend who I haven't seen in ages
3. Laughed with the kids trying to lie on top of each other
4. Tomato and Bacon put on a play for hubby and I (it included a song, dancing and confetti made from broken leaves, which was showered down on us from the first floor).
5. We made and iced cup cakes - the pic
:-)
Happy Day 6
1. Wonderful evening of laughter, friends and fun
2 .Finding out what Tomato is allergic to (I know, you're thinking that wouldn't make you happy, but it makes me happier to know!)
:-)
Happy Day 7
1. Seeing my little Bacon in her school play (pic on FB)
2 .Music - Rock n Roll from the play
3. More cake and cup cakes and icing
:-)


Happy Day 8
1. Kids had a fun day
2. Made way with work projects
3. Daddy building the kids a fort
4. Getting an unexpected gift from a friend - Swiss chocolate - YUM! Thanks Hie
5. Texting a good friend
Red Cappooch
:-)
Happy Day 9
1. Hubby giving the kids brekkie and putting a movie on before going to work, so I could have a little snooze
2. Mema coming for a visit
3. Red cappuccino
4. Showing Tomato Bugs Bunny, Elmer Fuddd and Daffy Duck for the first time
5. Watching my 3 favorite TV shows back to back without any interruptions
:-)
Happy Day 10
1. Hubby taking kids out for brekkie so that I can catch up on work
Tigger and Piglet's cakes
2. Painting my nails in peace (ok I was supposed to be working!)
3. Tomato and Bacon informed me that it is Tigger and Piglet's birthday (apparently they are twins) and we need to celebrate so I made each of them a cake
4. We played pin the cherry on the cupcake (both made by the girls)
5. We played limbo, I sang and they limbo'd
6. Had a catch up with a good friend
7. Feeling that I may actually be nearly on top of things
8. Hugs, kisses and Lettuce sleeping on my shoulder (so yummy!)
:-)
Yummy!!
Happy Day 11
1. Happy that the girls had happy days
2. Happy that my family came to help out
3. Happy for all the love and support
4. Happy that I got this cool salad for lunch made by my hubby-extraordinaire!
5. Happy that I made such yummy bone broth that I drank most of it
:-)
Building Block Castle
Happy Day 12
1. Seeing my independent little Tomato
2. Both girls settling so nicely
3. Visiting Mema
4. Surprise visit from Hubby
5. Having breakfast with a good friend
6. Getting a hero's welcome from Lettuce when we got home
7. A little helper (Bacon) making dinner
8. Tomato was so proud of her castle she took my phone and took this pic
9. Tomato LOVING my bone broth that I made
:-)
Happy Day 12
1. Brekkie and a catch up with my friend
2. Home Affairs quick and easy and good conversation in the queue
3. Surprising Tomato and Bailee with popcorn from the tuckshop
4. Reflexology (heaven on earth) and a chat to my friend
5. First cappachino in 10 days (delivered to me by mistake - couldn't say no!!)
6. Happy helpers helping me with dinner - so much fun
7. Me saying to Lettuce (2½) "you're so warm" and him replying "I not warm, I Lettuce"
Sorry no pic for today
:-)
Happy Day 13
1. Seeing my favourite African sky colours (pic doesn't do it justice)
2. Watching Tangled with my BLT
3. Sharing in Hubby's success
4. Getting paid
5. Hearing that a friend's dream is coming true, his furtiture shop is open and he wants my marketing advice. Love helping friends!
:-)
Happy Day 14
1. Playing with Lettuce all morning. What a little poppit.
(Pic on FB of him making a picnic on the bed. His face cloth is the picninc blanket, Piglet is joining him and he's offering Piglet a bite of his banana)
Need I say more?
2. Finding a great new show to watch - Blacklist. Wow!
:-)
Biscuits that became balls
Happy Day 15
1. Sleeping off my meds
2. Shopping with Bacon
3. Fun at the complex fun day
4. Making and eating healthy choc balls
:-)

Happy Day 16
1. Chatting to Mema for an hour
2. Chatting to Dorothy from Oz for another hour
3. Dancing with the family
4. Excellent chicken korma at Aroma Cafe
5. A REAL cappachino aaaahhhhhhh
6. A whole non-working weekend
:-)
Happy Day 17
1. Driving around at midnight with Lettuce
2. Watching Blacklist
3. Students making me laugh
:-)
Happy Day 18
Awesome sandpit at B's school
1. Getting to school on time (I don't usually do the drop off)
2. Meeting people in the queue
3. Planning Easter
4. Watching the kids in the sandpit having a ball
5. Visiting Mema
6. COFFEE!!
7. Quick snooze to alieviate all-nighter!
:-)
Permission granted to use photo ;-)
Happy Day 19
1. Catching up on some zzz while snuggling with Lettuce (my best!)
2. Catch-up with my fabulous friend
3. Sipping cappuchino in front of the fire
4. Making Lettuce a crown because Bacon wanted it to be his birthday
5. Singing happy pretend birthday to Lettuce and him joinng in
6. Date night
7. Planning the Easter weekend
:-)
Well I have had a little set back. I have been updating my 100 Days of Happiness on my iPad and lo and behold it deleted the last 2 weeks of my happiness grrrrrr. So in the true spirit of happiness, I'm going to ignore this little bump in my happy life and continue from today, with the commitment to only post from my PC.
Missed Happy Days from photos collected from FB:
Happy 4 Days at the farm
Ahhhhh what a view!!!
Kids had a ball all sleeping in the sunken circular lounge
We saw newborn lambs!
And then we ate one! Yummy!! (Not really a newborn, but it was one from the farm)
Happy Day 25
Yummy homemade chicken pie by Gramps (with a smiley face)
:-)
Happy Day 27
Naughty tots caught out all watching TV while lying on the coffee table with their noses almost on the screen!
:-)
Happy Day 28
Tomato and Bacon not wanting to sleep and then fell asleep on top of each other!
:-)
Happy Day 31
Tomoto photo-bombing a selfie of Bacon and me
:-)
Happy Day 32
Getting a lemon meringue fudge as a gift
Happy Day 33
1. I became a member of the iPhone family hoo boy! Love the purple case chosen by B and T. Hmm not sure if it'll go with anything, I'm not sure if I have anything purple.........
2. Had a wonderful brekkie and catch up with my bud H'ie
3. Uncle Al came to visit
:-)
Happy Day 34
1. Making a robot out of old plastic containers with B
2. Getting freshly prepared dinner for me and the kids to take home from an awesome friend
3. Getting my phone set up, with training by Hubby
4. Beautiful sunset
:-)
Happy Day 35
1. The girls watching The Sound of Music with me
2. Making crumpets with Lettuce "helping"
3. Getting the kids some warm clothes
4. Tomato finding a friend at PPCs play area
:-)
Happy Day 36
1. The kids having a ball on the rides at Monte
2. Throwing coins into the fountain
3. Hubby making dinner
:-)
Happy Day 37
SIL fetching the girls and taking Tomato to her first netball practise. Showing her where to go and staying to watch her first practise.
:-)
Happy Day 38
Tomato fell off the jumping castle - eek!! I'm VERY happy that the x-ray showed no broken bones - pic on FB of the kids showing moral support, all piled on top of one another on the bed in casualty.
:-)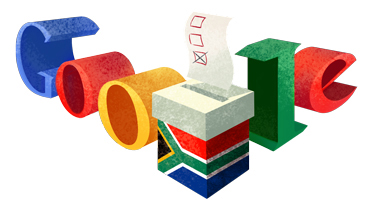 Happy Day 39
Took less than 15 minutes to vote
I love the Google logo today
:-)
Happy Day 40
Had a birthday brekkie with a friend who I haven't seen in ages
Working on hubby's ibook - sooo cool
:-)
Happy Day 41
1. Watching the kids playing on jungle gyms that they haven't played on before
2. Imparting some wisdom to a friend regarding my greatest passion - marketing!
3. Date night!!
4. Hubby so happy
:-)
Happy Day 42
1. Ice skating with the kids for the first time - I've still got it!!
2. Fanta being the key sponsor for the ice-rink (inside joke)
3. Lettuce singing "Jolene, Jolene, Jolene, Joleeeeen please don't take-a my man" captured on video
:-)
Happy Day 43
1. Still having my mom with me to celebrate Mother's Day
2. Waking up to "shhh Daddy come and help us surprise Mommy"
3. Presents and home made cards, streamers, a baloon in my favourite colour
:-)
I love you mummy
You're the best
I love you more than the whole world
Happy Day 44
1. The girls having fun in the morning
2. Getting a late Mother's Day pressie - purple cover for my iPad and purple stylis to match!
:-)
Happy Day 45
1. I am happy that I could be the one to take my mom to the hospital
2. I am happy that she is in the best hands possible
3. I am grateful and happy to still have my mom at my age
:-)
Happy Day 46
The girls dressing up their brother as an angel!! Pic on FB. He's so happy to be on show.
:-)
Happy Day 47
Such an inspiring and exciting meeting about IT of all things.
:-)
Happy Day 48
Celebrating my good friend's birthday. Cheers!!
:-)
Happy Day 49
Best Fun Day ever! Kids and parents had a ball
:-)
Happy Day 50
1. Relaxing afternoon at my favourite coffee shop.
2. Mom may be coming home tomorrow!!
:-)
Happy Day 51
Watching my litle boy discover the excitement of a radio controlled car. His squeals of delight were contagious and lifted my spirit. Pic on FB
:-)
Happy Day 52
Having hot chocolate in a fancy cafe with my little Bacon. She is such divine company. Pic on FB
:-)
Happy Day 53
Brekkie with a friend I haven't seen in ages
:-)
Happy Day 54
Mom was released from hospital
Went to see The Sound of Music
:-)
Happy Day 55
Impromtu play date with a new friend
:-)
Happy Day 56
1. Build-a-bear party with Bacon - so much fun
2. Visit to Mema
3. Hubby the wonder-chef
:-)
Happy Day 57
Sleep in
Another fun afternoon with my new friend
:-)
Happy Day 58
Tomato and Lettuce doing the plank!
:-)
Happy Day 59
Helping friends with marketing and getting some inspiration right back!
:-)
Happy Day 60
Having a fun day out with my mom and Stevie Wonder
Seeing my mom getting stronger and becoming her "old self" again
:-)
Happy Day 61
1. Another good day out with my mom
2. All the nice things students said to me about my lecturing and my passion for the subject
3. The final exam is over so I'm on a weeks holiday before the next course
4. Mom-in-law's op was a success!
:-)
Happy Day 62
Took no longer than 2 minutes to get my new driver's license
:-)
Happy Day 63
1. Preparing for Tomato's birthday tea tomorrow
2. Baking
3. Hanging balloons above her bed, wrapping pressies
4. Seeing the excitement of being 7 for the last time
:-)
Happy Day 64
1. Tomato's birthday!
2. Icing cup cakes for school tomorrow
3. Having my family over to celebrate
4. Chatting to mummy
5. Tomato's face when she found out she was getting her dream of a hamster
6. Choosing Stripe (who later became Snowball)
7. Chatting one-way to my dear friend in Oz who always seems to lift my spirits not matter what's going on
All-in-all an excellent day!
:-)
Happy Day 65
1. Seeing my mom
2. Having the day off from lecturing
3. Watching my little girl's eyes shine with excitement over her little pet. Welcome Stripe (who became Snowball)
:-)
Happy Day 66
1. Impromptu brekkie-cappie with hubby
2. Starting to get on the path to helping Tomato
3. Being inspired by my dear friend KS
4. I cooked dinner and made up my own soup recipe
5. Watching the girls climbing a beautiful tree
:-)
Happy Day 67
1. Cooking as a family
2. Putting final touches on hubby's book
3. Being suprised with a BEAUTIFUL arrangement of flowers!! Made my day!!!
:-)

Happy Day 68
1. Mom's leg is healing very well
2. Tomato started a new course of treatment and she could feel the difference. I cried with happiness.
3. Lettuce wanting to sleep with the girls
:-)
Happy Day 69
Seeing Bacon's reaction to a playdate with an old school friend
:-)
Happy Day 70
1. Mom came for a visit
2. The kids are mastering their bikes
:-)
Happy Day 71
1. Had Father's Day a week early - oops!
2. Yummy ostrich curry made by hubby
3. Bacon giggling uncontrollably
4. Playing the shopping game with Bacon
:-)
Happy Day 72
1. Unexpected brekkie ready when I got downstairs
2. Snuggle with Lettuce
3. Mom getting a good assessment
4. Potential new home
5. Good first CBB lecture
6. Party invites looking divine
:-)
Happy Day 73
1. Mom getting a good diagnosis from the Pulmonologist
2. Having a quick brekkie at the hospital coffee shop
3. Girls being so excited to see Mema
4. Finishing the invitations to the party!
:-)
Happy Day 74
1. Bumping into a friend I haven't seen for ages
2. Meeting a good friend for a cuppa
3. Making healthy crunchies for the fam
4. Realising that everyone is going through something
5. Watching the girls' faces when they asked for a milkshake and I always so no, but instead said YES!
6. Chatting to them and playing games, such cutie pies!
7. Bacon started riding her bike. She never been used training wheels!!
:-)


Happy Day 75
1. Mom's leg is healing nicely
2. Date coffee and date night!
3. Bacon lost a bottom tooth - such excitement!
:-)
Happy Day 76
1. Finding snowflake cookie cutters for the party
2. Finding winter vests in the girls' sizes
3. The tooth fairy came and folded the R10 note like a treasure chest - clever fairy!
:-)
Happy Day 77
1. Made banana ice-cream
2. Tomato looked beautiful in her new red dress
3. Lettuce played snappy crocodiles
4. Bacon whizzed around the Aroma parking lot on her bike. So proud.
:-)
Happy Day 78
Baking granny's ginger biscuits with Mema and the fam
:-)
Happy Day 79
1. Outing with the tots - making pizza
2. Getting sorted for the party - 5 more sleeps!
:-)
Happy Day 80
Fun day shopping with the fam and getting rid of some junk
:-)
Happy Day 81
Dinner with the girls - chicken soup for the soul!
:-)
Happy Day 82
My first cappuchino in a MONTH!!
:-)
Happy Day 83
1. Making stuff for the party packs!
2. Getting the garage ready
:-)
Happy Day 84
1. Seeing the delight on the kids' faces when they saw the garage like a winter wonderland!
2. Finding Olaf already made!
3. Making marshmallow pops
:-)
Happy Day 85
1. Party prep under control
2. Quick cappuchino
3. Icing the cake
:-)
Happy Day 86
1. When excellent planning results in an awesome party. See party
here
2. A fresh LMP delivered by one of my favorite people
3. Happy little girls
4. Happier friends
5. Beautiful result
:-)
Happy Day 87
1. Ah a day at the botanical gardens with great peeps
2. Hubby climbing a mountain with Tomato to see the waterfall
3. Yummy picnic and capooch
4. Kids had a ball especially Lettuce (pic on FB)
5. Seeing granny and gramps
6. Loooong chat to Lolly Pop
7. Ready-made-by-hubby sarmie for work tomorrow
:-)
Happy Day 88
1. An awesome lecture!
2. Tomato finished her homework all by herself to surprise me when I got home - woohoo!
:-)
Happy Day 89
1. Unexpected coffee date that turned into breakfast
2. Mom signing on the bottom line
3. Divine cake
4. Happy tots
5. Happy mom
5. Cupcake icing
6. Pressie wrapping by hubby
7. Hubby the IT guru
:-)
Happy Day 90
1. Happy birthday to my little Bacon who turned 6 today!
2. Watching the excitement as she got her kiddy laptop that she wanted
3. The cutest birthday ring at the school
4. Her excellent report
5. All the grand parents at the family tea
6. Stunning dinner
7. Happy family
8. Fantastic business meeting with Hubby - watch this space.......
:-)
Happy Day 91
1. Going back to bed and sleeping for a few more hours
2. Happy children playing
3. Last day of lecturning before a 3 week break
4. Whatsapp conversations with my friend is Oz
5. Secret coffee with Hubby
6. Chocolate ganache cake
7. Laughing with the tots with re-lightring candles
:-)
Happy Day 92
1. Fun cardiologist
2. Sleeping in until 9am!!
3. Wobbly front tooth
4. Awesome lunch date with a friend from school
5. Such a fun afternoon
6. Pizza for dinner
7. Stunning gift from my friend for Bacon
8. Mom got accepted!! Beginning of new chapter.
:-)
Happy Day 93
1. Barnyard Theatre
2. Hubby sorting out the kids while I crashed
3. Tomato playing nurse - cutie pie!
:-)
Happy Day 94
1. The tooth is out!!
2. Tomato explaining that she fell on Bacon's face and knocked the tooth out. lol
3. French toast for brekkie - made by Hubby extraordinaire
4. Writing a blog post for me. I feel free and open to abundance!
:-)
Happy Day 95
1. First day of school holidays - woohoo!!
2. Birthdays!
3. Dinner celebrations and lots of cake!!
:-)
Happy Day 96
1. Finished marking my supps
2. Desperately needed cappooch
3. Pep talk
4. The joy of the toothfairy delivering the money in an origami bow tie
5. Indian food - huge treat!
6. Watching TV with hubby
:-)
Happy Day 97
1. Getting the key for mummy!
2. Meeting an extraordinary woman
3. Kids seeing their friends
4. Giggling children
:-)
Happy Day 98
1. Puppy!
2. Hot chocolate
3. Lettuce saying "I want to cuddle you"
4. Cuddling Lettuce
5. Being ridiculously silly with the kids
:-)

Happy Day 99
1. Friend visiting and having a great chat
2. Kids loving their friends - so cute to watch
3. Delicious dinner
4. Watching TV with hubby
:-)
Happy Day 100
1. Getting a pedicure, in the bath, from Tomato
2. Receiving amazing compliments from my latest blog post
You Cannot Save Everyone
3. Kids having a blast at a kiddy-friendly restaurant that we seldom go to
4. Grateful that I have such an amazing husband, family and life
:-)
I did it!! I got to the end of my 100 days of happiness!!
Not everyday has a picture because some I have put onto my Facebook page and sometimes I was enjoying the moment and didn't think to take a photo. It's been a fun challenge, to everyday think of what I am grateful for and for what made me happy, but what I have realised is that even in very tough times, if you look hard enough, there are happy moments and these are the moments worth living for!